Welcome to Twiggers Motorcycles, your number 1 for Moto Guzzi!
2013 - celebrating 27 years in business, serving you, our loyal customers! Thank you!
One of the ONLY solus

Moto Guzzi dealers in the UK
but are we the best? Try us and judge for yourself! We are proud to have the reputation as being one of the best and most knowledgeable Moto Guzzi specialists in the country. We work hard to keep that reputation and to keep you, the customer satisfied at all times. Our quality of service, customer dedication and expertise CANNOT be beaten - we look forward to serving you!
Our Mission Statement
To offer you, the customer, the very best in customer service and quality of work and service that we can. That has been our mission for the last 26 years and always will

be. We strive to bring you the highest

quality of work and service, and

ALWAYS with a friendly smile and warm welcome.
If you have any reason to be unhappy with our products or service, please tell us in the first instance so that we are given the opportunity to rectify the problem. Sometimes a problem may exist that we are not aware of, we would ask that you please bring this to our attention.
Please do support your dealer, we appreciate your custom and we couldn't do it without you and your support.
Use us, please don't abuse us, help us to help you and we'll be behind you all the way.
FOR PRIVATE SALE BY OWNER:
GRISO 8v 1200
2009
PEARL WHITE
IMMACULATE
6000 MILES
TERMIGNONI EXHAUST
SCREEN
Previously sold by us.
£5999
For more information or to view this machine please contact us.
01509 263967
Bank/Summer holiday closures 2013
Closed Bank Holiday Monday 27th May
Closed from 5.30pm on Friday 12th July
and reopen Monday 29th July at 9.00am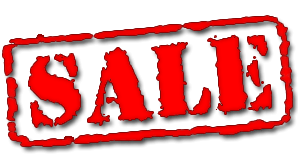 All SPADA clothing MUST go!
(in store only)
Technical Jackets and Trousers, Ladies & Mens fit.
While stocks last - when they're gone they're gone!

All HORNEE Kevlar jeans MUST go!
Denim, Camo, Cargo. Ladies & Mens fit.
Were £115/pair - Now £95/pair
While stocks last - when they're gone they're gone!
California 1400 Touring - now here!
£15,995 on the road

Sense of adventure and luxury, in perfectly balanced harmony. These essential characteristics allow boundless horizons to be faced with bold spirit and maximum comfort. The technical solutions, the new mechanical components and the innovative but faithful design make the California 1400 Touring the flagship of Gran Turismo. Pure reference for the entire category.
The Touring is the California in its most classic expression, destined for great travellers, thanks to a level of comfort, aerodynamic protection and load capacity which only a Moto Guzzi can offer.
Sumptuously equipped with "Patrol" windscreen, supplementary chrome-plated headlights, 35 litre panniers, engine and pannier guard kit, the Touring is a lavishly chromed and technological "tourer" which, powered by the largest V-twin ever seen before in Europe, is able to trot along all day with a thrilling sound and, if necessary, provide a taurine thrust able to leave behind any vehicle on two or four wheels.
The sensory indulgence continues also with the engine off, outside your favourite bar or in your garage at home, where you can explore it in its smallest detail. Here there is plenty of choice, including engine and construction details or technological devices: among these, for the first time in its category, the possibility to choose the preferred engine response between Turismo,Veloce, Pioggia modes, or select the cruise control which, together with the anti-theft device, is part of the standard equipment.
But the sumptuous standard equipment does not preclude the possibility of further customising the motorbike according to one's own taste and needs: the accessories catalogue is the most comprehensive ever produced by Moto Guzzi.
High performance silencers, chrome-plated and machined components, saddles of all types and materials, as well as support and the App which turns an iPhone into a supplementary dashboard to obtain all kinds of navigation, performance and technical data information.
Special attention has been given to the chromatic concept, developed in two colours: white with dark decorative threads on the tank, inspired by the California Highway Patrol versions, or classic black with white threads, reminiscent of the original versions, such as the V7 and 850 California.
To view the dedicated website for the
California - click HERE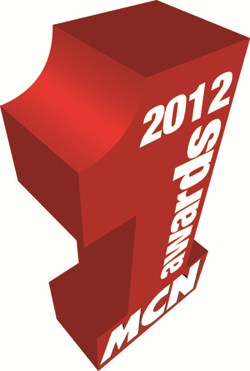 V7 Range scoops
top
MCN award
Piaggio Group cleared up at this years annual MCN awards, scooping 3 'Best in Class' awards, the most for any manufacturer on the night.
The Moto Guzzi V7 range grabbed top spot in the 'Best Retro' class.
Here's what MCN editor Andy Calton had to say about the fantastic V7 range:
"It's long been one of the sweetest and most authentic retro roadsters but it's taken the 8bhp power hike for 2012 to take it to the top of its'class. The Guzzi's handling is the sportiest and most involving of its rivals; its attitude keener, its suspension firmer, weight lower and its handling more flickable. Its sound is fruity and vibrant - just how it'll make you feel"
See you soon then?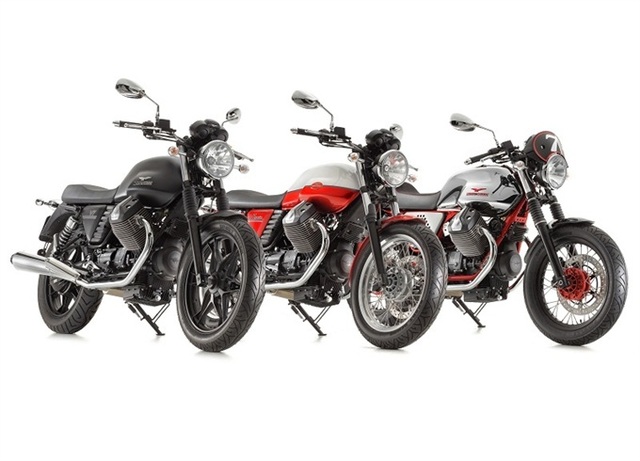 Fantastic 2012/13
V7 range
NOW IN STOCK.
V7 Stone
V7 Special
V7 Racer
FREE Demo available - please call to book.
Click HERE for more information on this superb range of V7's.
TO CLEAR
STELVIO (non ABS)
Red
Last one to clear
£8999 otr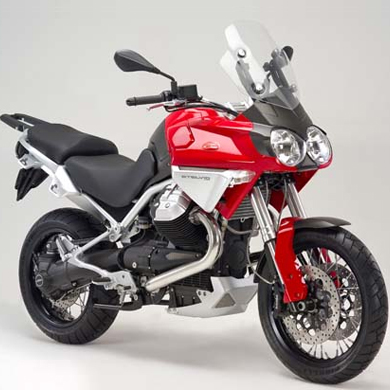 HONDA SPARE PARTS AND SERVICING! (We also supply spares for your KAWASAKI, YAMAHA, SUZUKI, PIAGGIO, PEUGEOT, AND GILERA too!
We don't only do Moto Guzzi spares! We have always supplied spares for your Japanese motorcycle, new or old, and we continue to do so - so DON'T FORGET!
We can also service your HONDA, Kawasaki, Suzuki, Yamaha etc (certain exclusions apply, please enquire)